Welcome to the Luxraytale Series AUs Wiki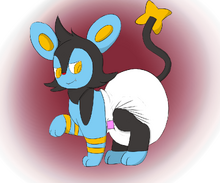 Welcome to the Luxraytale Series AUs Wiki! This wiki is for Luxraytale Related AUs and Art. Luxraytale, LuxrayFell, LuxrayShift and LuxraySwap. Each is based on the Original. Please, no sin based AUs.
Non-LuxrayTale AUs are allowed, but, they must include a Pokemon within the AU such as LucaTale with LucariotheSkeleton & MentalTale with Buster, Lua & Luca.
Chat Rules:
Be very nice to everyone
No Cursing, if you're in this wiki chat & you curse, you'll be warned. If you need to vent you may curse.
Absolutely no talking about violence, unless you want to vent, feel free to do so.
You may talk about other non-LuxrayTale AUs, excluding the Lust Series.
If you don't have anything nice to say, don't say anything at all.
After 3 warnings, you will not be kicked unless you violate a 4th time. Same goes for kicks, if you are kicked 4 times, you will be banned. A ban will not happen on your 3rd Kick. All Warnings & kicks will carry to the next day, they reset after a week.
You are allowed to RP, only in PMs. If you use the main chat to RP, do it when no one is having a conversation.
Don't judge LuxrayBlast for his strange liking to diapers. Don't say he wears them in real life, because you will be dead wrong. That will be an instant kick. Skipping the 4 Warnings. If you already have a kick, instant ban for 30 minutes. If you ask him about it, you won't be kicked as long as he's respected for his differences.
Venting is allowed. Don't judge anyone because of their covers.
Art by Mewzy148.
Latest activity
Ad blocker interference detected!
Wikia is a free-to-use site that makes money from advertising. We have a modified experience for viewers using ad blockers

Wikia is not accessible if you've made further modifications. Remove the custom ad blocker rule(s) and the page will load as expected.